PPS Equity is a new media publication and an experiment in citizen journalism. It is produced by and for stakeholders of Portland Public Schools.
PPS Equity is a volunteer effort. We do not accept advertising, and nobody gets paid to provide content.
Mission statement
The mission of PPS Equity is to inform, advocate and organize, with a goal of equal educational opportunity for all students in Portland Public Schools, regardless of address, income, disability, gender, religious preference, sexual orientation or race.
Background
Portland Public Schools (PPS) policy decisions over the years have have created a two-tiered school system, segregated by race and class.
Schools in predominately white, middle class neighborhoods have maintained relatively comprehensive programming, and have net gains in enrollment (due to in-transfers) compared with their neighborhood population.
Schools in the rest of Portland continue to suffer a self-reinforcing cycle of declining enrollment (due mainly to out-transfers, not demographic trends), cuts in programming, and increasing racial and socio-economic isolation. Comprehensive secondary schools have been virtually eliminated here.
As our city becomes increasingly integrated, our schools are becoming more segregated, both ethnically and economically. This should not be acceptable to an city that values diversity and equal opportunity, and it is clear that PPS policy is out of step with the values of greater Portland.
All of our children deserve a first-rate education, and nobody should have to leave their neighborhood to get it.
About the masthead background


Left to right:
Child participating in an NAACP school segregation protest, location and date unknown.
Ron Herndon and the Black United Front protest at a Portland Public Schools board of education meeting, 1980.
Fifteen-year-old Elizabeth Eckford is jeered by Hazel Massery after she is turned away from registering at Little Rock's Central High School, September 4, 1957.
George Wallace attempts to block the federally mandated integration of the University of Alabama, June 11, 1963.
Newspaper headline announcing Brown v. Board of Education, May 1954
White segregationists protest school integration in Little Rock, August 20, 1959
About the Editor
Steve Rawley is a father of two children in Portland Public Schools. He started this Web site to move discussion off his personal blog and create a more useful and appropriate place for the discussion of equity in Portland Public Schools.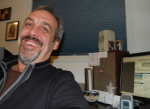 Steve was an invited panelist at the fall 2008 "Building a Better Journalist" conference hosted by the Society of Professional Journalists of Oregon and Southwest Washington and the University of Oregon School of Journalism and Communication. In June 2009, Steve was featured as an innovator in beat reporting at BeatBlogging.org, a research project initiated by New York University's Arthur L. Carter Journalism Institute.