Toward Equality in our Schools: New Postage Stamp
February 8, 2008 7:07 am by Steve Rawley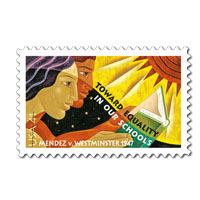 NSA founding member and PPS Equity contributor Anne Trudeau sends along a note that she saw this stamp at the post office the other day.
The stamp commemorates the 60th anniversary of the landmark 1947 Mendez v. Westminister School District federal court decision, which held that Orange County schools could not segregate Mexican and Mexican American students into special "Mexican" schools.
Earl Warren, then governor of California, signed a law later that year that eliminated segregation of Asian school children in California schools, then went on to be Chief Justice of the Supreme Court and write the unanimous Brown v. Board of Education decision in 1954.
The US Postal service issued the stamp in September of 2007.
Steve Rawley published PPS Equity from 2008 to 2010, when he moved his family out of the district.
filed under: Arts, Equity, Segregation